DC has recently made a thrilling announcement that is sure to excite fans of the iconic superhero Wonder Woman. They have unveiled artwork featuring a brand-new character, Wonder Woman's daughter, who possesses her own civilian name as well as a formidable superpowered identity. The revelation came courtesy of DC Comics writer Tom King, who took to Twitter to share the exciting news.
The name of Wonder Woman's daughter has been revealed as Lizzie, and her superhero alter ego is Trinity. The character's design and costume pay homage to both her mother, Diana, and Cassie Sandsmark's Wonder Girl. Trinity is depicted wearing a striking costume and stands out with her unique visual appeal.
One notable aspect of Trinity's appearance is the presence of three lassos. One of them is the famous gold Lasso of Truth, which Wonder Woman wields with great skill. Another appears to be the silver Lasso of Persuasion, commonly associated with Donna Troy. However, the third lasso is an intriguing addition that doesn't correspond to any existing item in DC continuity. This enigmatic detail further piques the interest of fans and adds an air of mystery to the character.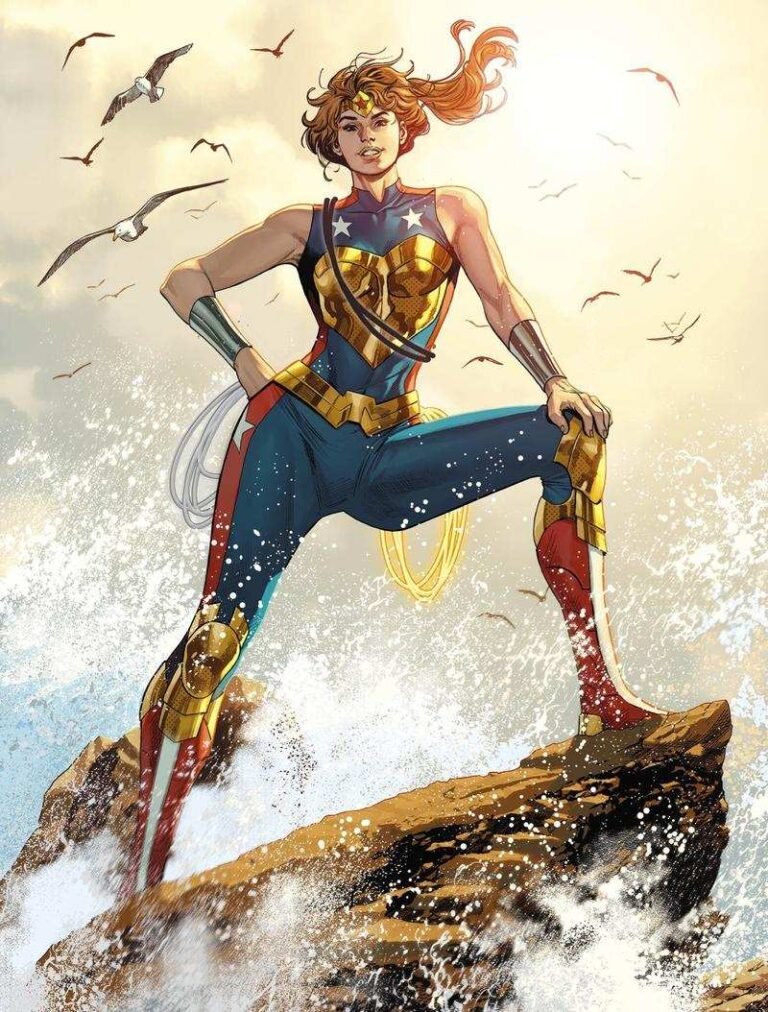 According to reports from IGN, fans will have the opportunity to meet Trinity in June's issue of Wonder Woman, specifically Wonder Woman #800, written by Tom King and featuring artwork by Daniel Sampere. This story will serve as a tantalizing glimpse into the world of Trinity and the adventures that lie ahead. Furthermore, King and Sampere will helm a new Wonder Woman series as part of the Dawn of DC initiative in September, promising even more thrilling tales featuring this exciting new character.

Notably, the stories surrounding Trinity will take place 20 years in the future, setting her apart from other characters like Batman and Damian Wayne, where the latter was introduced as Batman's son after a significant period of time had passed. This decision to explore Wonder Woman's daughter in a future setting offers a fresh perspective and allows for new storytelling opportunities.
Tom King shared his inspiration for creating Lizzie, revealing that the idea stemmed from imagining the older brother dynamic between Damian Wayne and Jon Kent, the son of Superman. He envisioned them as babysitters for their little sister, the daughter of Wonder Woman. King stated that he drew inspiration from his own three children and their dynamic, emphasizing the potential for both comedy and drama in such a story. He affectionately coined this concept as "Super sons…and daughter" and expressed his excitement to share this story with readers of all ages.
The introduction of Wonder Woman's daughter, Trinity, promises to be a significant addition to the DC Comics universe. Fans can eagerly anticipate the upcoming Wonder Woman #800 and the subsequent Wonder Woman series spearheaded by Tom King and Daniel Sampere. With its fresh premise, engaging characters, and intriguing future setting, the story of Trinity is poised to captivate audiences and leave an indelible mark on the world of superheroes.