Exciting news for fans of the Caped Crusader and the upcoming DC Studios film, The Flash. McFarlane Toys has revealed the first look at the new Batmobile, modeled after the iconic vehicle seen in Tim Burton's 1989 Batman film, and set to make a triumphant return in The Flash, with Michael Keaton reprising his role as Batman.
The preview of the Keaton Batmobile, part of McFarlane Toys' Winter Showcase, was shared by Todd McFarlane on Twitter, giving fans a glimpse of what to expect from the iconic vehicle in the upcoming movie. While the original Batmobile was a fan-favorite and remains beloved by many, the new version for The Flash features some noticeable differences.
Although the new Batmobile has been updated to meet the requirements of modern-day high-speed action sequences, such as the slightly larger cockpit, it has still maintained its classic design with its sleek lines and impressive appearance. These changes make it a remarkable feature of the movie, capturing the attention of viewers with its intimidating presence.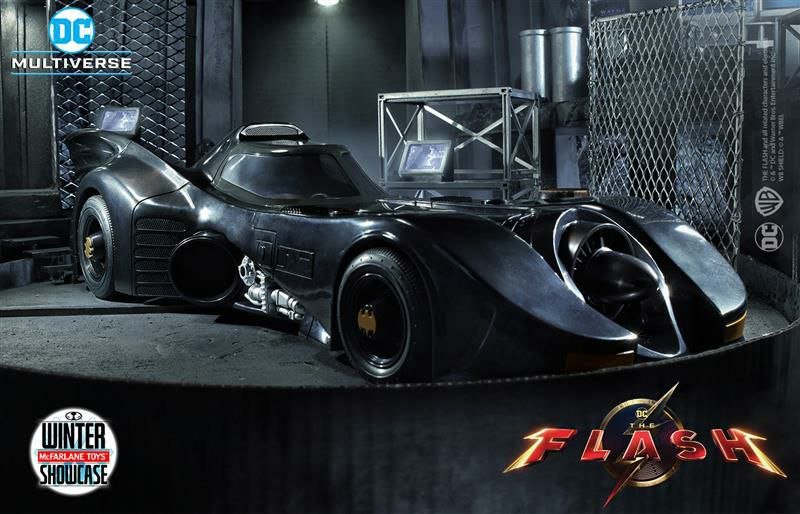 The Batmobile, designed by Julian Caldow and Anton Furst, has been an integral part of the Batman universe since its debut in 1989. The combination of two Chevrolet Impalas and a front-mounted jet intake, powered by a Chevrolet V-8 engine, allowed the Batmobile to reach speeds of up to 25-30mph (48 km/h), making it a formidable force on the streets of Gotham City.

The Batmobile's appearance in The Flash's sneak preview released during DC Fandome in 2021 caused a sensation among fans, and its subsequent appearance in the Super Bowl trailer only added to the hype. Other trademark vehicles from Batman's arsenal, such as the Batcycle and the Batwing, are also set to make appearances in the upcoming film.
In addition to the Batmobile, McFarlane Toys has also released a look at their 12-inch statues of Keaton's Batman and Ezra Miller's Scarlet Speedster, both of which will be featured in The Flash. The collectible statues come complete with character bios on the back, offering fans a glimpse into what they can expect from the characters in the upcoming movie.

The description of Keaton's Caped Crusader in the character bio reads, "older, long-retired from service as Gotham City's protector and somehow even more hardened than the billionaire superhero Barry has grown to know." This suggests that fans can expect a darker, grittier portrayal of Batman in The Flash, one that is more in line with the character's roots in the comics.
Fans will no doubt be eagerly anticipating the release of The Flash, set to hit theaters on June 16, and the chance to see Michael Keaton's Batman fire up the Batmobile once again. With the new Batmobile and other classic vehicles making appearances, this movie is shaping up to be a must-see event for fans of the Dark Knight and the DC Universe as a whole.