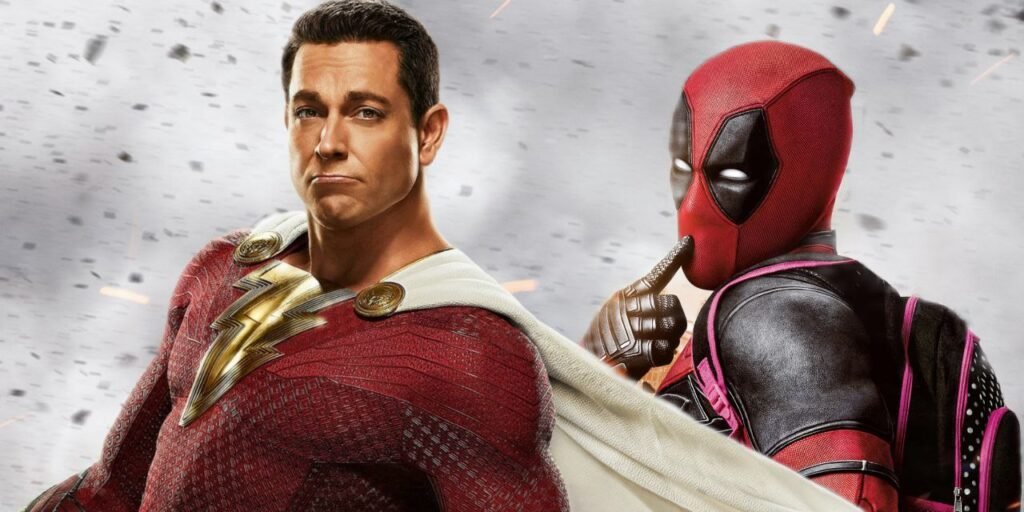 Zachary Levi, the star of Shazam! Fury of the Gods, has drawn a comparison between his character and Deadpool, saying that they both share a subversive approach to their respective comic universes. However, some fans have taken issue with Levi's comments, leading to a backlash on social media.

In an interview with SFX Magazine, Levi spoke about the fun he had in bringing Shazam to life, emphasizing the character's duality as both an adult superhero and a child still learning how to navigate the world. He likened this approach to Deadpool's tendency to comment on the superhero genre in a more R-rated and mature way, but noted that Shazam offers a family-friendly alternative.
"I love that we get to be the most subversive of all the DC characters, almost like the Deadpool of DC," Levi said. "Deadpool gets to sit outside of it and comment on it all and have fun with it all – obviously in a more R-rated, mature way. We do the same thing, just a little more family-friendly!"
Despite Levi's intention to praise the Shazam character, many fans took issue with his comparison to Deadpool, arguing that the two characters are not comparable. Some accused Levi of overhyping the movie and trying to win favor with DC executives, while others claimed that Shazam is a poor imitation of more established superheroes in the DC Universe.
No tf its not😂😂 shazam force its corny ass jokes unlike deadpool where ryan was born to play deapool. Stop making a fool outta yourself @ZacharyLevi. The only thing funny about YOU, is your ARROGANCE. #RestoreTheSnyderVerse

— Steve (@BxknownSteve) February 20, 2023
@ZacharyLevi is unfortunately deluded. Shazam is like a poor sci fi channel movie compared to Deadpool. he has to try and keep his lying, disgraceful CEO @JamesGunn sweet. Lying to and treating #HenryCavillSuperman as disgracefully as they did I now look forward to the end of DCU

— David cowan (@DavidCowan72) February 20, 2023
These reactions are not unusual in the world of comic book fandom, where debates over which characters are superior or most faithful to the source material can become heated. However, it is worth noting that the success of the first Shazam movie, which grossed over $360 million worldwide and received positive reviews, suggests that there is an appetite for a more lighthearted take on the superhero genre.
Ultimately, whether or not Shazam can be compared to Deadpool is a matter of personal opinion. What is clear is that Zachary Levi is passionate about the character and is eager to continue exploring his unique blend of humor, action, and heart. With Shazam! Fury of the Gods set to hit theaters on March 17, 2023, fans will soon have a chance to see for themselves if the character truly is the Deadpool of the DC Universe.