Zack Snyder recently spoke about the Snyderverse poster and the hidden messages contained within it, suggesting that his vision for the DC Universe may be restored. In an interview with The Film Junkee, Snyder stated that "There is some simple but obvious references inside of this image that we really had fun creating. … It's not super subtle, but it's also not super obvious at the same time … I don't think the fans have missed anything."
Fans have been speculating about the hidden messages in the poster, with many decoding the cryptic clues contained within it. As fans noted, The Superman statue which was demolished by Doomsday in Batman v Superman put back together, in other words 'Restored'. Another speculation is that the modified palm of Superman's hand in the poster could be a reference to Snyder's original five-movie arc for the DC Universe, with the five fingers representing the five movies that Snyder had originally planned. The other palm of the statue has three fingers folded, which could be a nod to the three films that Snyder has already directed in the DCU, leaving two more to go.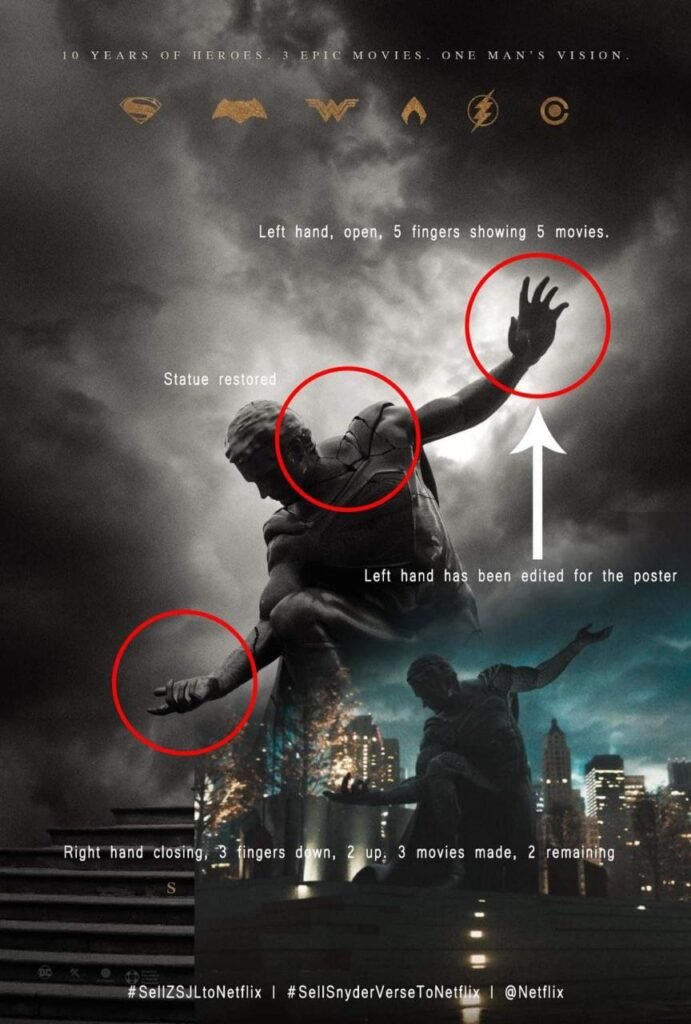 The poster was released as part of Snyder's FullCircle Justice League event, which is set to take place from April 28-30. The event will feature screenings of Snyder's DC Universe movies, panel discussions, and merchandise. As Snyder explained, "We're doing this three-day event that's going to have, you know, obviously screenings of the movies, but then panels and all kinds of cool stuff, merchandise and everything. It's going to be a cool, sort of immersive experience."

Fans have been clamoring for the restoration of Snyder's original vision for the DCU ever since the release of Justice League in 2017. The original film was heavily criticized for its inconsistent tone and for straying too far from Snyder's original vision. However, the success of Snyder's director's cut of Justice League, which was released on HBO Max, has only strengthened fans' calls for the restoration of Snyder's vision.
As Snyder stated, the clues in the poster are not super subtle, but they are not super obvious either. With the FullCircle Justice League event just around the corner, fans will be eagerly awaiting any further hints or announcements from Snyder about the his future in the DC Universe. As one fan put it, "Zack Snyder is a master of visual storytelling, and we can't wait to see what he has in store for us next."